We have an amazing line-up of children's picture book authors and illustrators, both in English and Chinese to choose from, covering Kindergarten to Primary 6 students. We have locally based authors for live visits, and overseas speakers for virtual visits too.
We know that meeting an author/illustrator in real life and hearing them convey their passion for their work, can fundamentally alter a child's relationship to books while also inspiring educators to think about how to teach reading more creatively.
Contact us for more information
kc@bringmeabook.org.hk/ (852) 2127-4533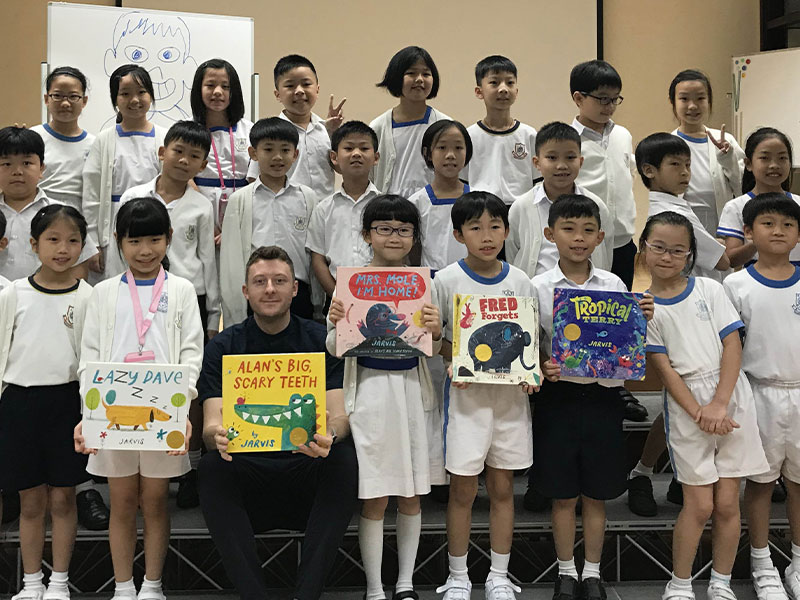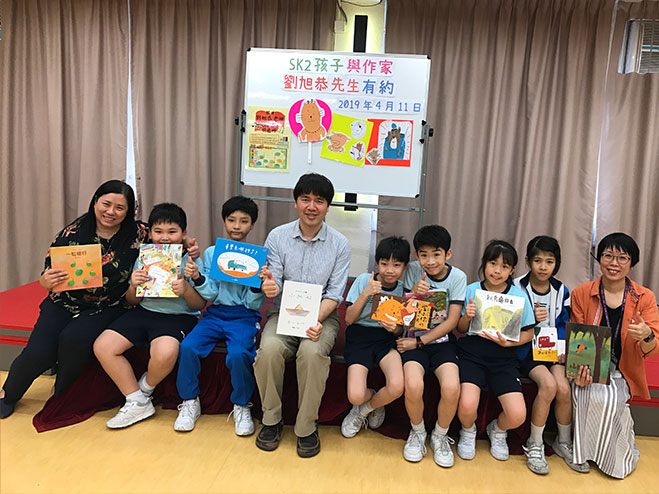 Arranging an Author Visit
Whether you would like to plan a FACE-TO-FACE or VIRTUAL event, plan early. It's good to remember: Authors don't do school visits; schools do author visits. It's all about preparation and building excitement for the children – by the time the visit day comes around, the kids feel like the author is a rock star!
Step 1: Give us a call or send us an email briefly explaining what you are looking for. Include language preference, age groups and what dates you have in mind.
Step 2: We will respond with suggestions of author/illustrator/storyteller who can offer what you are looking for. We will give you an idea of what the author can do on a typical visit and supply you with accurate costs so you can budget accordingly.
Step 3: We will help finalize details of the day, create a zoom/online link (if needed) and provide on-site support incl. tech test-run prior to actual event.
Step 4: Once date is finalized, make sure their books are read by teachers in classrooms and/or daily facts about the author or his/her books are shared ahead of time. Why not try a message board where kids can write to the author?
*Note: We do not manage book orders but encourage schools/parents to purchase books via our affiliate partner link at Book Depository for English books or Open House for Chinese books.
"The talk was interesting and they enjoyed it very much."
"I would like to read more books after meeting the author."
"The author helped me understand the story more."
"I would like to create a book myself."
*Survey conducted from May 2020 – April 2021
Some of Our Esteemed Authors
Eric Litwin
Eric Litwin is a song singing, guitar strumming, # 1 New York Times Best Selling author of the original Pete the Cat series, bringing early literacy and music together.
Dai Yun
Dai Yun is the renowned author of The Wandering Chicken, The Plane Tree and Sudan's Horn. Her books have won several awards, including Hsin-Yi Picture Book Award and Wenjin Book Award.
Jimmy Liao
Jimmy Liao is an award-winning writer and illustrator. He has published more than 50 works in all and have been translated into numerous languages.
Jon Klassen
Jon Klassen won both the American Caldecott Medal and the British Kate Greenaway Medal for children's book illustration for his book, "This Is Not My Hat."
Todd Parr
Todd Parr is the award-winning author and illustrator of more than 50 books for children, including favourites "It's Okay to Make Mistakes."
Shana Cheung
Shana Cheung is a Hong Kong-based author of children's picture books. Her books won the Best Hong Kong Picture Book Creation Award and has been shortlisted for the 55th Bologna Children's Book Fair's Illustrations Exhibition.
Authors Available for Booking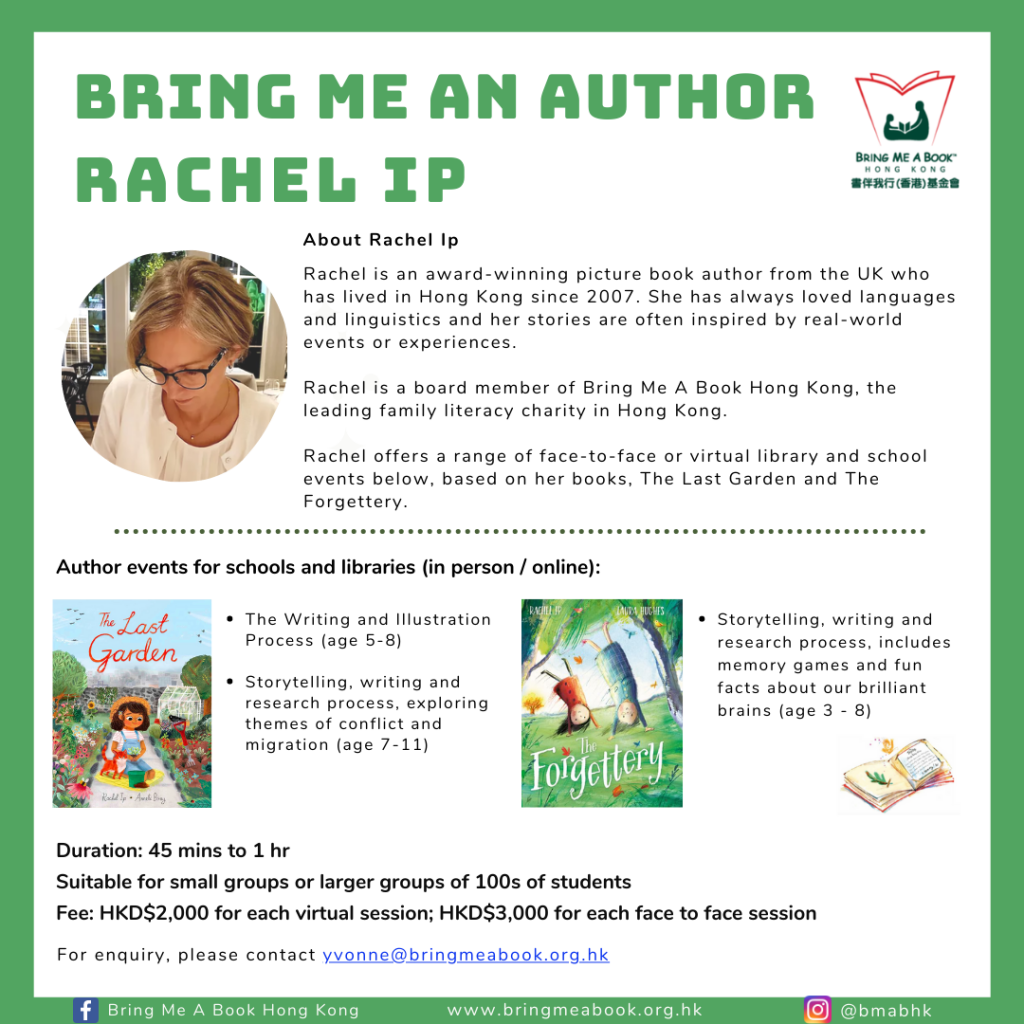 Rachel Ip, Award-winning Children's author
Rachel Ip is an award-winning children's author whose stories are often inspired by real world events and experiences. She has lived in Hong Kong for 14 years and is a board member of Bring Me A Book Hong Kong
Rachel offers a range of face-to-face or virtual library and school events, based on her books, The Last Garden and The Forgettery.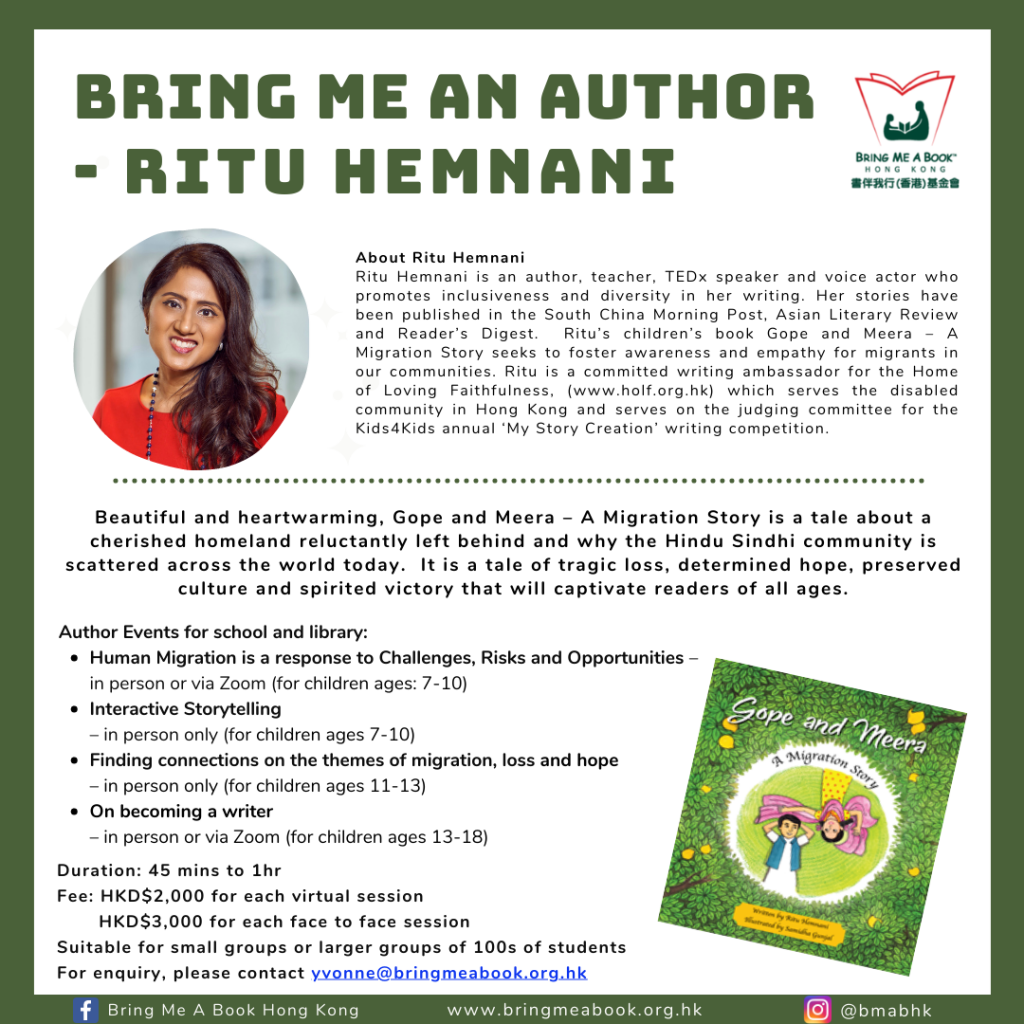 Ritu Hemnani, children's author
Ritu's children's book Gope and Meera – A Migration Story seeks to foster awareness and empathy for migrants in our communities. She offers face-to-face or virtual visits to chat with students and share "Behind The Scenes' of her story!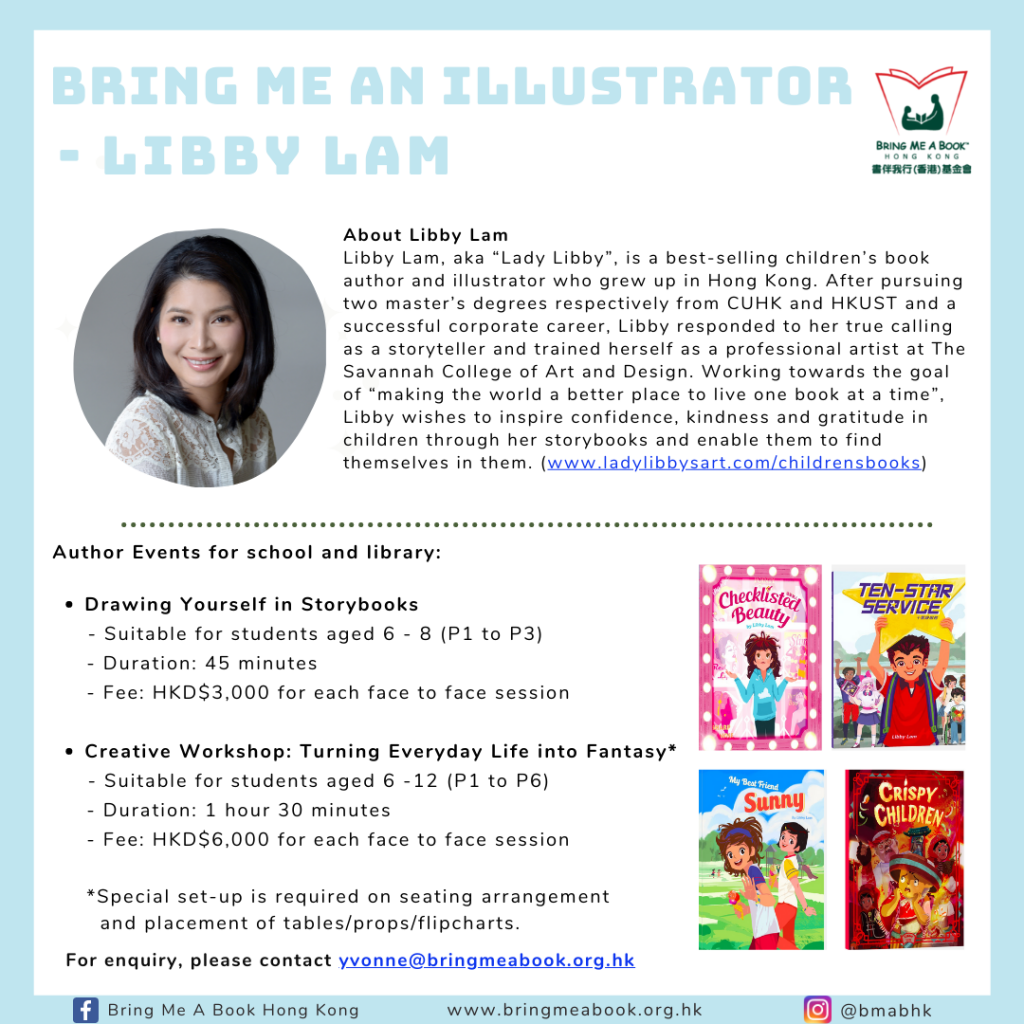 Libby Lam, Children's author and illustrator
Best-selling children's book author and illustrator Libby Lam will share with young readers how her love of reading has led her to become a children's book artist, and how she turns her daily life into stories by drawing her family and friends in her books.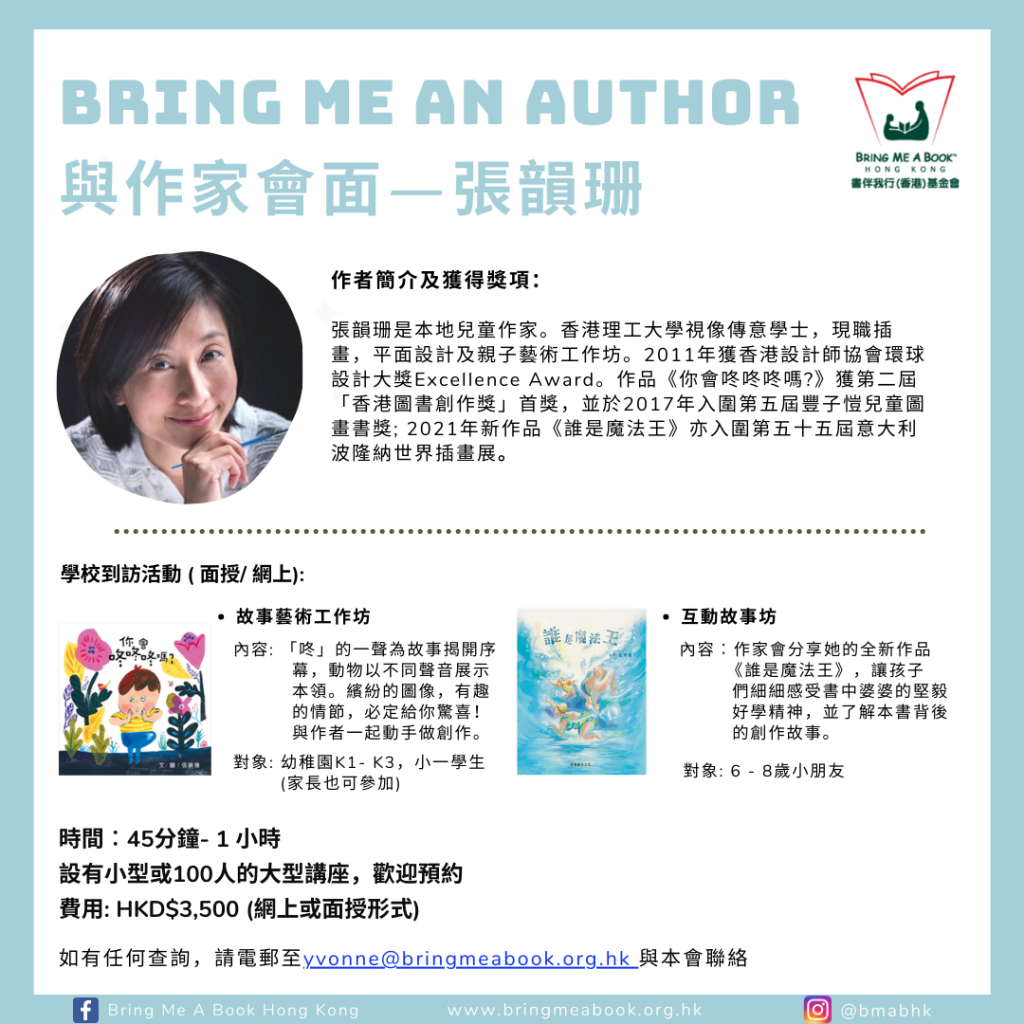 Shana Cheung, Hong Kong's award-winning author and illustrator
Shana believes that stories with iconography can touch the heart of reader. She offers face-to-face or virtual visits to share her creative journey of "Can you dong dong dong?  and "Who is My Granny" new published in 2021.
This talk will be in Cantonese.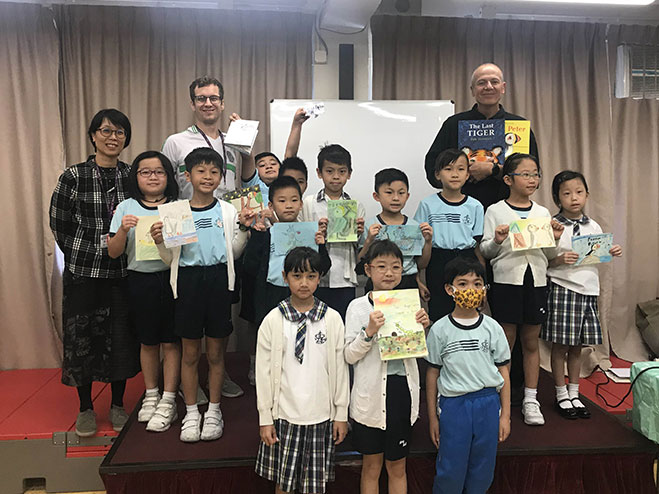 The arrangement was well planned. Students were amazed by the author's drawing and his stories. Thanks again for bringing this precious moment with our students. I am sure it can enhance student's motivation to read more English books.
Ms. Cheung
C&MA Sun Kei Primary School (Ping Shek)