22 Oct 2019: Creativity and The Importance of "Reading" Pictures
                                             *SOLD OUT*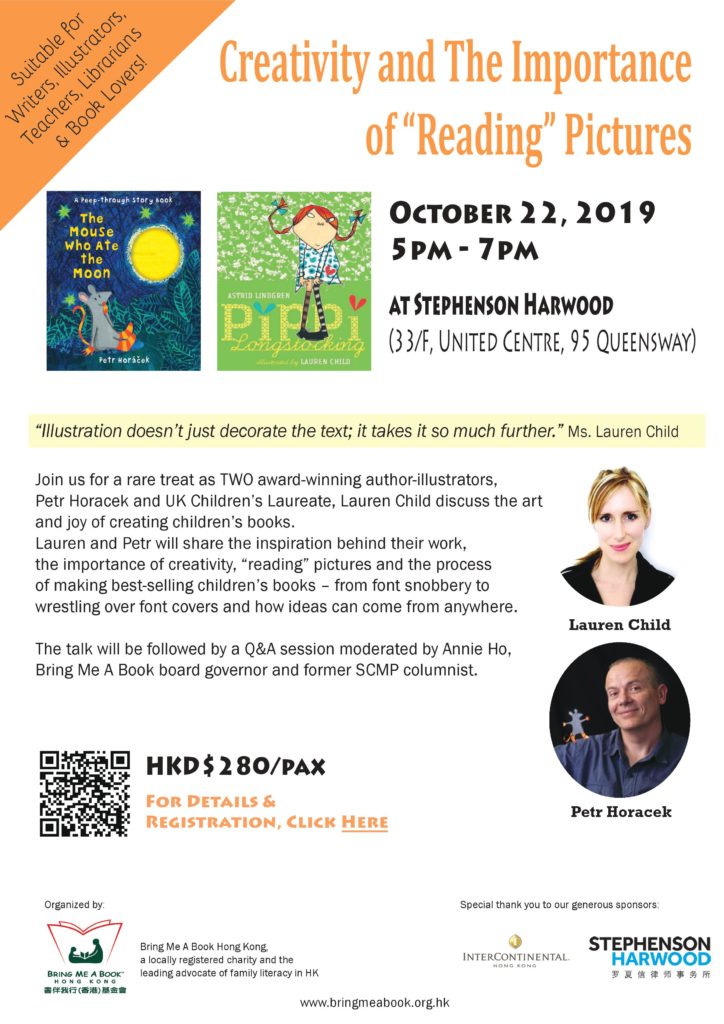 Lauren and Petr will share the inspiration behind their work, the importance of creativity, "reading" pictures and the process of making best-selling children's books – from font snobbery to wrestling over font covers and how ideas can come from anywhere.
The talk will be followed by a Q&A session moderated by Annie Ho, Bring Me A Book board governor and former SCMP columnist.
Date: October 22, 2019 (Tuesday)
Time: 5:00 – 7:00 pm
Cost: HKD$280/ pax
Suitable for: Writers, Illustrators, Teachers, Librarians & Book Lovers!
About Lauren Child:
Lauren Child has been at the forefront of innovation in children's books for over 15 years and has raised the profile of illustration as an artform for all ages. She's worked with mixed media, pioneered text as an integral part of illustration and collaborated with artists across different fields.
Lauren is also a passionate advocate for visual literacy and the importance of quality picture books for children. She is also passionate about encouraging creativity in children and adults. She is a trustee of House of Illustration, a gallery set up by former Laureate Sir Quentin Blake. She has been awarded an MBE for her work and was appointed as an Artist for Peace by Unesco in 2008.
About Petr Horacek
Petr Horacek grew up in on the outskirts of Prague, in the Czech Republic He would listen to plays and stories on the radio or watch a film and then fill up his sketchbooks with pictures and images from the story he had just heard or seen.
He studied at the Academy of Fine Art in Prague where he painted and drew for six years before settling in the UK with his British wife. Their two daughters were the biggest inspiration for his work when they were little. His first books, Strawberries Are Red and What Is Black and White? Horacek received the Books for Children Newcomer Award 2001. It was where his career as an illustrator and author started and he has since won many awards in both the UK and the US.
About Annie Ho (Panel Moderator)
Annie was born in Hong Kong, and raised in Canada by loving parents and well-stocked public libraries. She has served on Bring Me a Book Hong Kong board since 2011 and is also board governor of the Feng Zikai Chinese Children's Picture Book Award. A former lawyer, and a former columnist for South China Morning Post, she is the editor of our English and Chinese children's book guides. She devotes herself to her family, focuses on community work in children's health and education, and finds great joy in reading both silently and aloud